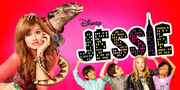 JESSIE
is a show on 
Disney Channel
.
Main Cast
Edit
girls names Debby Ryan as Jessie Prescott  skai jackson as zuri ross and    peyton list as  emma ross

boys names Cameron Boyce as Luke Ross  kraran  brar as ravi ross   kevin chamberlain as bertram winkl
Frank the Lizard as Ms. Kipling
list of   jessie  Episodes
Edit
jessie season 1   new york nanny -  used karma  -  zomdie tea party  -   one day wonders -  zuri new old frend - creepy  connie come  a callin -  christmas story - star wars - are cooler  a 5 grader  -  think the a train  think -  romancing the   crone -  the  pricess and  the   pea  brain  - world  wide  web  of  lies  -  the  kid wnisperer -   glue  dunnit A  stick -  bad fellas -  beauty the beasts -   evil tinme two -  remp stira ina tea  cup  -  a doll out house -   we are  so  gounded - cattle connie scary wall - gatcha day -  the  serert life  of  mr.  kipilng -  star wars -   dad fellas
jessie  season  2  panlattak room -   quitting  cold  kolala  -  punch  dumped love -   some bunny in  trouble -  we dont  neet  no stinke  babges -  the   winnning  -green  eye mohters -all  the knght moives -  kids  dont  wahana  shmmed -  make new friend  but  hide the old - lol lizrds -  trshin  fashon -    austin jessie ally  new  year -the  trouble   with  trouble  -  toy can -  the   say yes  to the  mass drass - teacther pest  - jessie  big  break - pian  in  the  ar window -   why do  foil   follin - g.l. jessie -  break up -  shap up  -  diany  a mad new women  -  the jessie  nator grudemert  day -  throw moma  from  the  terrace
jessie  season  3 ghost  hodt bummres -  caught  purple hande -  underestudided and over done - the blind date the  chakete and the  primatelizard scales  and  wretales - the  rosses  got real  good luck jessie  nyk chrstmas - krummping and  crushing -hoedown showdown
Ad blocker interference detected!
Wikia is a free-to-use site that makes money from advertising. We have a modified experience for viewers using ad blockers

Wikia is not accessible if you've made further modifications. Remove the custom ad blocker rule(s) and the page will load as expected.