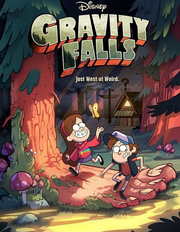 Gravity Falls
is a show on 
Disney Channel
.
Main Cast
Edit
Jason Ritter as Dipper Pines
Kristen Schaal as Mabel Pines
Alex Hirsch as Stan Pines/Soos
Linda Cardellini as Wendy Corduroy
All episodes of Gravity Falls on this wiki should be in this list. To categorize better, make your own header with (USERNAME)'s Episodes. For example:
SuperToadMan56's Episodes
Edit
Ad blocker interference detected!
Wikia is a free-to-use site that makes money from advertising. We have a modified experience for viewers using ad blockers

Wikia is not accessible if you've made further modifications. Remove the custom ad blocker rule(s) and the page will load as expected.